Every administrator wants their systems to be smart. For example, when a employee moves from one department to another, all of the department-based attributes for their user account need to be updated. Having the system know and update what needs to be changed would save the administrator countless hours of manual configuration. What if you could accomplish this for Active Directory?
Consider a scenario where users in specified groups are managed by certain managers. Since some  groups have a unique manager, the manager attribute needs to be updated when an employee is added to one of these groups. Trying to do this with the Microsoft tools, including PowerShell, would be difficult at best, if not impossible. However, using a tool like ADManager Plus, this dependent attribute update is a breeze.
ADManager Plus provides User Modification Templates, which allow rules to be defined. Figure 1 illustrates these templates and rules for the scenario above.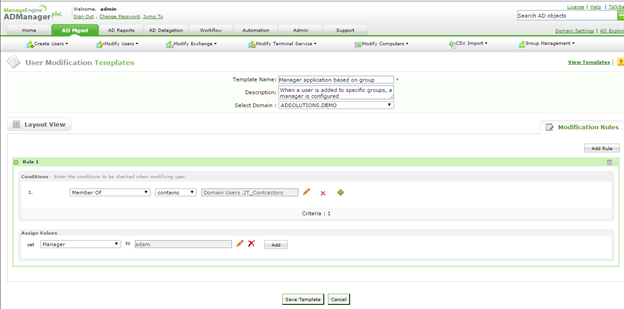 Figure 1. A user modification rule.
With just a few clicks in this template, you can create a rule to easily update the manager attribute for every user that is added to a specified group. Now, all manager attributes are not only correct, but updated automatically by the system as well.
If you would like to test out ADManager Plus, you can get a 30 day trial here.
The following two tabs change content below.
Derek Melber
Derek Melber is the Technical Evangelist for the ADSolutions team at ManageEngine. As a Directory Services MVP, he is highly highly sought after the world over for his knowledge, insight, and keen understanding of the Windows product line, especially Active Directory. Derek has helped Active Directory administrators, auditors, and security professionals around the world understand the finer points of Active Directory, Group Policy, Group Policy Preferences and Security. He writes for, speaks to, and educates thousands of IT professionals around the world, every year through his blogs, books, seminars, webinars, etc.
Latest posts by Derek Melber (see all)